Silo and Tank Cleaning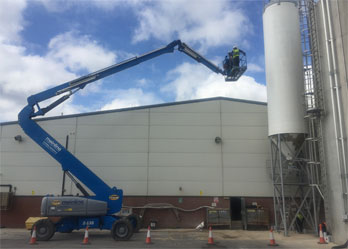 BSSB has over 30 years experience in the Maintenance, Refurbishment, Cleaning, Painting , Inspecting & Facilitating a change of use of Silo's.
We Can Clean both internal and external surfaces, offer protective coatings to prolong the life of Steel, plastic or GRP Silos and adjacent structural framework or access ladders. Services we offer for your Silo / Tanks include Blast cleaning , High pressure jet washing, Painting , Re-lining, Roof coatings & Inspections.
Our Specialist staff are Confined Space trained , Rescue trained, First Aid trained, Gas Monitor Trained, Trained in the application of specialist coatings all of which are regularly reviewed and inline with current HSE guidelines.
Our Current Silo portfolio includes companies from The private sector, Refrigeration companies, The Quarry Industry , Food sector, Agricultural, Steel-works and the Industrial Manufacturing sector.
See our Rope Access Section.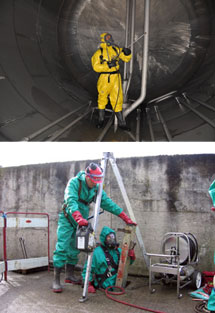 Tank Degassing & Cleaning
We provide complete internal and external tank cleaning, repairs and refurbishment. Any size tank undertaken including fuel tanks, chemical tanks, cooling towers, storage tanks, silos, bunds etc. We offer tank cleaning by shot blasting and or high pressure water jetting as well as cold-cutting service carried out following de-gassing of your chemical and/or fuel tanks and certification is provided for safety on your own site
(please see Blast Cleaning or High Pressure Cleaning for more information).
Industrial coatings applied internally and externally including acid resistant coatings for tanks / bunds and painting in any colour to suit your requirements (please see Industrial Painting and Coating Systems for further information). We also offer tank lining and waterproofing.
We provide Anti-legionella cleaning for tanks, cooling towers and water softeners. All systems are cleaned and chlorinated in accordance with ACOP L8. We also offer a complete tank removal service, all waste including chemical waste is carried away from site under our own waste carriers license and all work is certificated in accordance with
H&S Guidance Note 70.
All operatives are City & Guilds Confined Space trained with escape sets, working B.A., rescue procedures and emergency first aid. We also have fully trained Working at Height advanced level 3 climbers (IRATA rope access technicians) with rescue plan. All our operatives have the correct PPE, harnesses, rescue equipment, resuscitation equipment, communication apparatus, first aid supplies, lighting and tools.