Concrete Repairs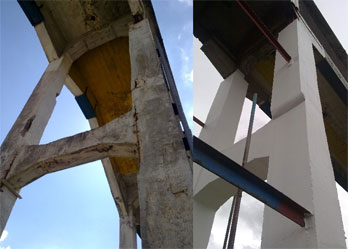 Acid rain and pollution attack concrete over time and, due to the lack of cover over the reinforcing steel, corrosion sets in causing the concrete to crack, spall and finally fall off. This reveals the corroded concrete reinforcement allowing further erosion to the concrete and so the cycle goes on. The deterioration accelerates unless effective repair work is carried out, as the cycle continues the costs incurred for repairing the damage increases.
BSSB specialise in the inspection, repair, maintenance and refurbishment of concrete structures. We have over 20 years experience in concrete repairs to floors, walls, overhead, other horizontal and vertical repairs, concrete bunds etc. We use the latest concrete repair methods for aesthetic or structural purposes. We cater for all industries including defence, oil and gas, food processing, manufacturing, warehousing, construction, engineering, buildings, plants, factories etc. We have carried out concrete repairs on educational buildings, commercial buildings,
industrial structures and industrial buildings.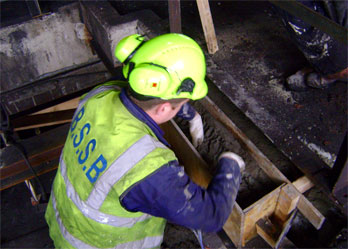 We shot blast all exposed reinforcement to SA 2.5 Standard
(please see Blast Cleaning for more information) and we can provide corrosion protection for steel and apply optional anti-carbonation coatings to industrial repairs. We offer a thorough concrete refurbishment service with structural waterproofing and also maintenance of Aco surface drains.
Treating problems early is the key to keeping repair cost to a minimum and avoiding any further issues. If you would like us to discuss concrete maintenance requirements at your site please contact us.